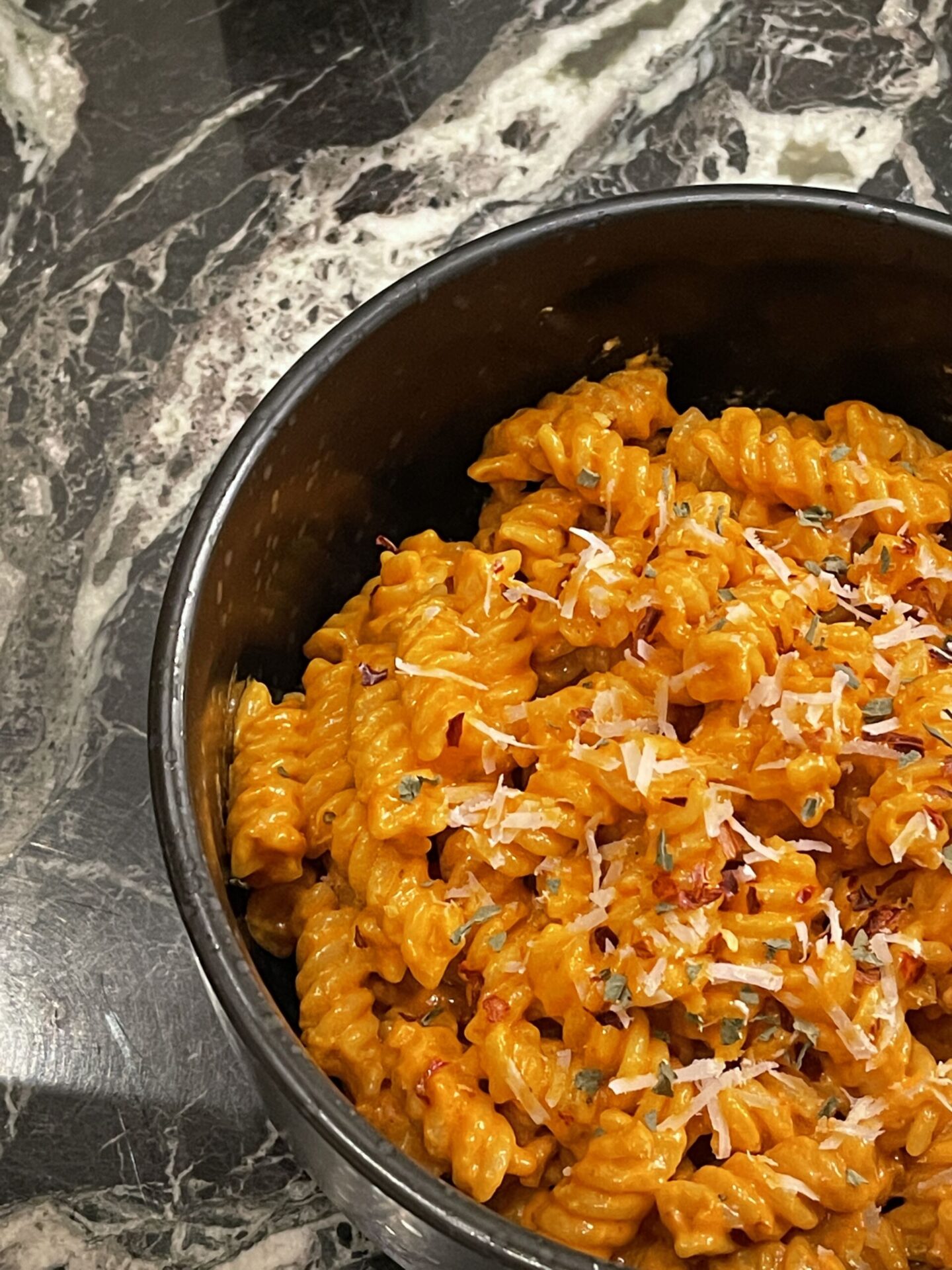 This is our absolute favorite pasta recipe lately! It's a copy cat recipe of the Johnny and Vinny's Spicy Fusilli Pasta (a super well-known restaurant in LA – the spicy fusilli is probably their most famous dish). This recipe also went viral on Tik Tok as the 'Gigi Hadid pasta' but we've been making it since before then, which makes me feel a tiny bit cool, haha! Let me know how you guys like it and tag me in your eats so I can see 🙂
What you need:
¼ cup olive oil
½ shallot, finely chopped
1 garlic clove, finely grated
½ cup tomato paste
2 tablespoons vodka
1 cup heavy cream (we like to use the Straus brand because its high quality and honestly makes a difference in the taste!)
1 teaspoon crushed red pepper flakes
Salt + Pepper
1 pound fusilli pasta (If we can find it, we always opt for Rao's or any other homemade brand)
2 tablespoons butter
1 ounce grated Parmesan, plus more for garnish
¼ cup chopped fresh basil
Instructions:
Heat oil in a large skillet over medium heat. Add shallot and garlic, stirring occasionally, until softened, about 5 minutes.
Add tomato paste, stirring occasionally, until paste is brick red and starts to caramelize, about 5 minutes.
Add vodka and cook, stirring constantly, until liquid is mostly evaporated, about 2 minutes.
Add cream and red pepper flakes and stir until well blended. Season with salt and pepper; remove from heat.
Meanwhile, cook pasta in a large pot of boiling, salted water, stirring occasionally, until al dente (make sure the water is heavily salted).
Set aside one cup of the pasta water and drain the rest.
Add pasta to skillet with sauce along with butter and ½ cup of the pasta water. Cook over medium-low heat, stirring constantly and adding more pasta water if needed, until butter has melted and a thick, glossy sauce has formed, about 2 minutes.
Season with salt and pepper and add 1 oz. Parmesan.
Serve and garnish with basil and more Parmesan.