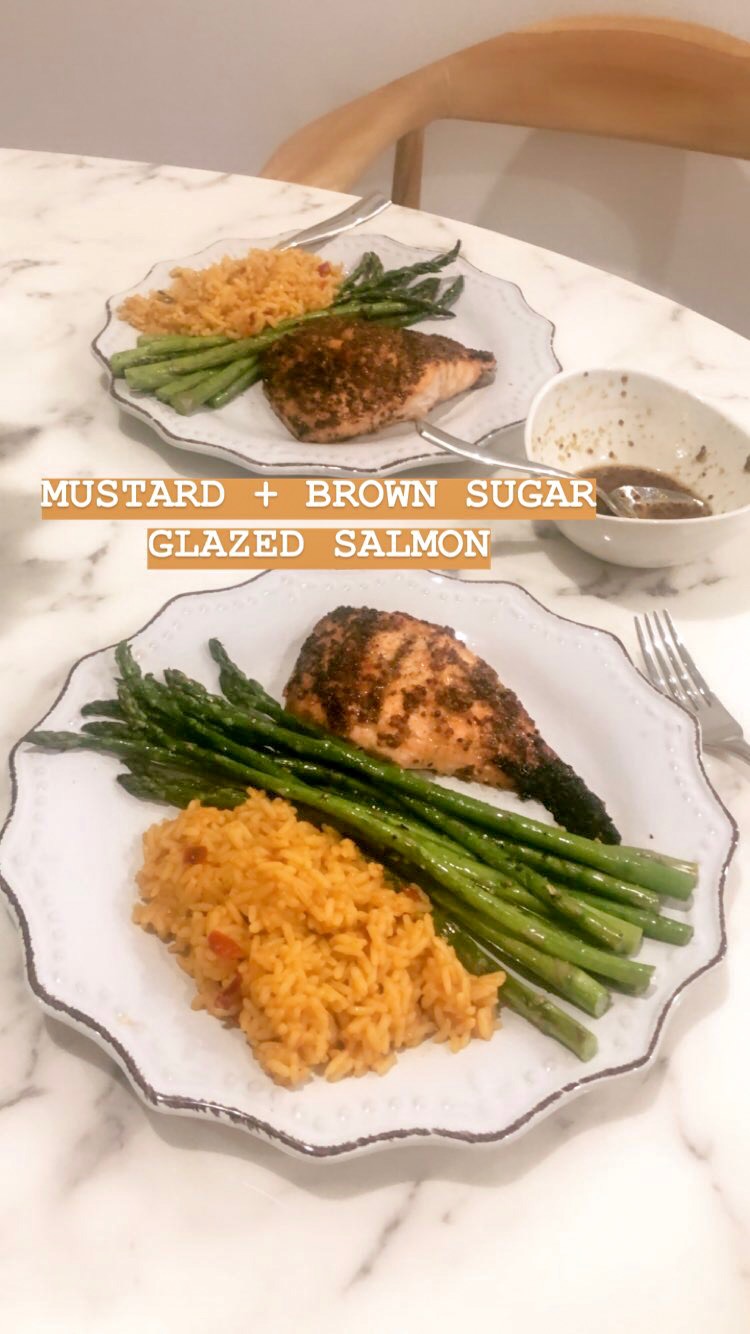 This is my all-time favorite way to prepare salmon!! I literally won't eat my salmon any other way because it simply isn't as good (in my opinion). This is one of those recipes that I've added to my repertoire and now continue to make at least once a week or once every other week. It's a real crowd-pleaser, so if you've got someone you're trying to impress, this is your dish!! My favorite part of all is that it requires few ingredients and can be whipped up in 15 mins! I like to serve mine with asparagus and spanish rice on the side.
WHAT YOU NEED:
1 lb salmon filets (serves 2 – I ask for them to be cut into portion sizes and buy from Whole Foods)
3-4 garlic cloves
3 tablespoons apple cider vinegar
1/4 cup brown sugar
3 tablespoons whole grain dijon mustard
Salt + pepper (I like to get fancy and use Trader Joe's Garlic Salt and Lemon Pepper sometimes)
INSTRUCTIONS:
Finely chop the garlic cloves and combine in a small bowl with the whole grain mustard, apple cider vinegar, and brown sugar. Mix ingredients together until they form a glaze.
Line a baking sheet with foil and place the salmon filets on top. Pat the salmon dry with a paper towel and then season generously with salt + pepper.
Generously coat the salmon with the glaze and save any leftovers.
Turn your broiler on HIGH and place the baking sheet with salmon on the top rack and set a timer for 10 minutes. The glaze will start to get crispy as it cooks, if you notice the oven getting too smoky, you can move the baking sheet down one rack. Note: depending on the thickness of your fillets, you may need another minute or two longer if they are large!
And voila! I serve my salmon with Near East Spanish Rice (can also find at Whole Foods) on the side and broiled asparagus seasoned with olive oil, garlic salt, and lemon pepper! The asparagus only takes about 5 minutes to make, so I throw it in the broiler as soon as the salmon is done. Please let me know if you try this recipe and what you think!!!