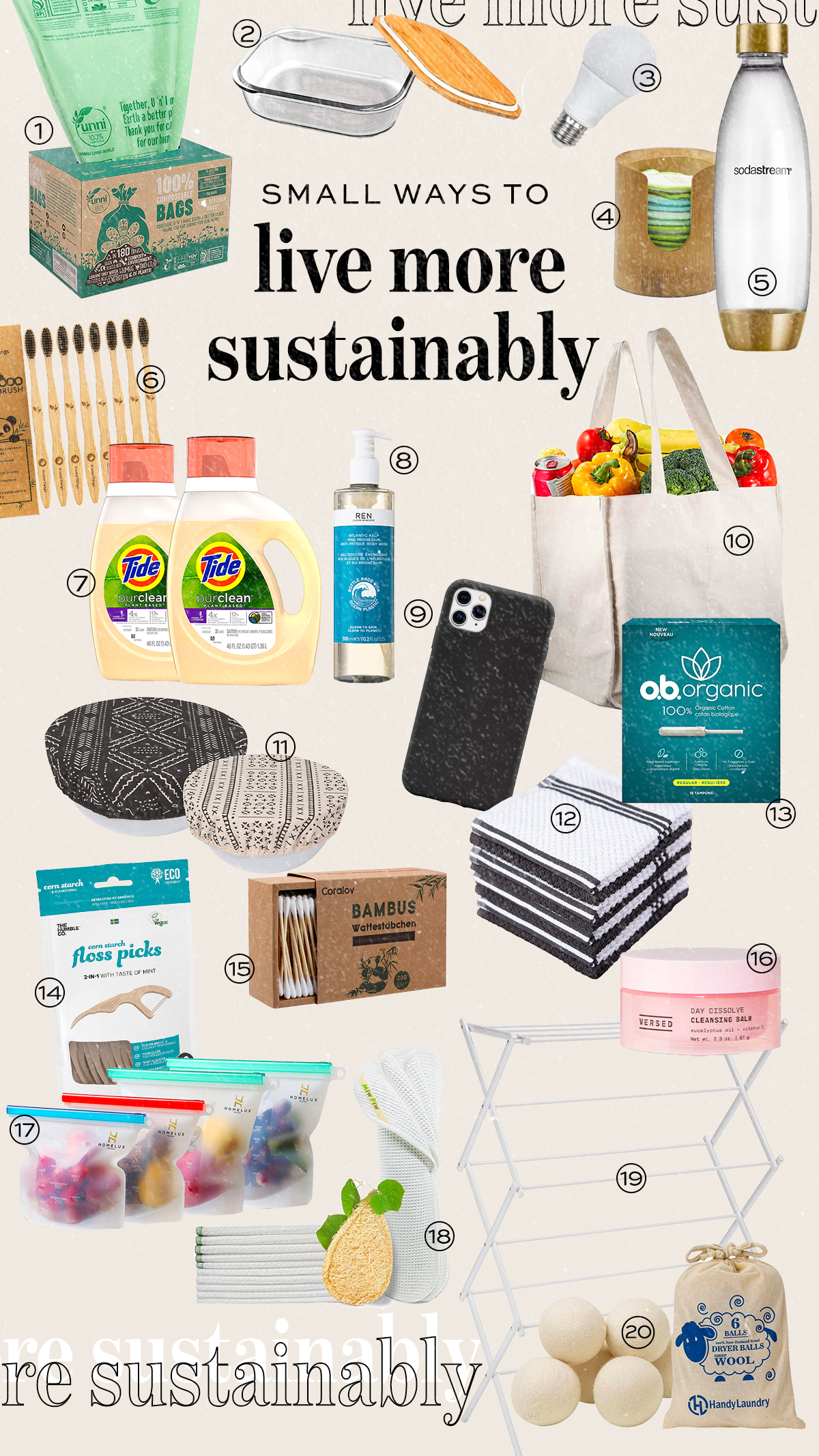 ONE // TWO // THREE // FOUR // FIVE // SIX // SEVEN // EIGHT // NINE // TEN // ELEVEN // TWELVE // THIRTEEN // FOURTEEN // FIFTEEN // SIXTEEN // SEVENTEEN // EIGHTEEN // NINETEEN // TWENTY
Not Pictured:
Face Halo The Modern Makeup Remover My favorite reusable make-up remover that acts as another alternative to makeup wipes. You just throw it in the wash and then reuse over and over.
Washable bamboo cotton rounds These cotton rounds fit nicely in the case above and replace cotton balls or rounds. They're washable and then you can re-use over and over.
6-pack reusable grocery bags Compact bags, great to keep in your glove box or bag so that you always have a reusable bag.
Reusable mesh product bags and cotton mesh produce bags Replace the plastic bag at the grocery store or the farmers market and use these instead!
Bamboo towels These replace 6 months of paper towels!
Stasher reusable silicone bags Eco-friendly and non-toxic to-go bags that replace ziploc bags!
Reusable notebook A non-paper notebook! Fill it up and then wipe it off with a cloth when you're done.
Detangling comb Great wooden comb that replaces the plastic ones!
Compostable straws and glass straws Both great options for on the go or at home drinking! I like to keep the compostable ones in my car so that I can skip the straw if I'm getting a drink while out and about.
Smoothie mason jars Good for coffee or just daily drinkware, they make a few different lids that fit them and have a hole for a straw to use instead of something plastic.
USB candle lighter Battery operated so it's reusable and free from harmful chemicals!
64 oz. motivational water bottle No brainer here! I love this water bottle. It's a better option than single-use containers and it makes me drink so much more!!